Posts for tag: tmj disorders
By Miswak Dentistry
May 19, 2022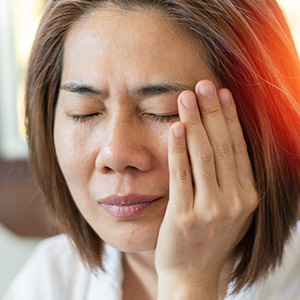 Temporomandibular Joint Disorder (TMD) isn't just painful, it can severely interfere with one of life's essentials—eating. For a person with TMD, an enjoyable meal with family and friends can turn into an agonizing, painful experience.
Especially during flareups, the action of chewing can be extremely uncomfortable for someone with TMD. The condition also makes it difficult to open the mouth, which can interfere with the types of food you can eat.
Managing TMD in general often requires a combination of treatment techniques, including medication and physical therapy. For meals in particular, making some adjustments in the types of foods you eat, how you prepare them, and how you eat them can help you enjoy your mealtime experience more.
If you have TMD, here are 4 things that could ease your discomfort and bring the joy back into eating.
Peel fruits and vegetables. Although the hard skins of some foods like apples or cucumbers are edible, the extra jaw effort to eat them can trigger pain if you suffer from TMD. Take the time, then, to peel fruits and vegetables with tough outer skins.
Cut food into small bites. With limited ability to open your mouth, normal-sized portions can prove challenging. Make it easier by cutting foods into smaller than normal bites. Taking the extra time to do this can give your jaws relief and reduce the discomfort and pain associated with opening your mouth.
Chew slowly. Chewing normally may still be too vigorous for someone with TMD—the chewing action increases the pressure on your jaw joints and can result in painful spasms. By slowing down your chewing, and taking breaks along the way, can make it less likely your jaws will become overworked.
Moisten tougher foods. Although delicious, a number of meats and vegetables are by nature "chewy." You can make them easier to eat with a little liquid. Use cooking methods like braising or stewing to make these foods more tender; you can also add gravies or sauces where appropriate to help make chewing easier.
If you would like more information on coping with TMD, please contact us or schedule an appointment for a consultation. You can also learn more about this topic by reading the Dear Doctor magazine article "When TMJ Pain Flares Up."
By Miswak Dentistry
June 18, 2020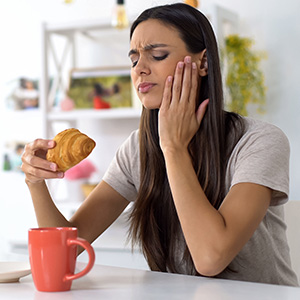 Eating is like breathing: We often do it without much thought. But if you suffer from chronic jaw pain, every bite can get your attention—and not in a good way. What's worse, in an effort to avoid the pain associated with a temporomandibular joint disorder (TMD) you might make less than nutritious food choices.
But there are ways to eat healthy without aggravating the symptoms of TMD—not just your choices of food, but also how you prepare and actually eat the food. Here are 4 tips that can help you manage eating with TMD.
Choose moist foods in sauces or gravy. A lot of chewing action is intended to mix saliva with tough or dry foods to make them easier to digest. But this extra jaw action can irritate the jaw joints and muscles and increase your discomfort. To help reduce your jaws' work load, choose foods with a high moisture content, or cook them in a sauce or gravy.
Peel foods with skin. Fresh fruits and vegetables are an excellent source of vitamins and minerals, but their tough outer skin or peel is often hard to chew. Although these parts may also contain nutrients, removing them allows you to gain most of the nutritional benefit of the food while making it easier to chew it.
Cut foods into bite-size pieces. A lot of discomfort with TMD occurs with having to open the jaws wide to accommodate large pieces of food. To minimize the amount of jaw opening, take time to cut all your food portions down into smaller pieces. Doing so can help you avoid unnecessary discomfort.
Practice deliberate eating. All of us can benefit from slower, more methodical eating, but it's especially helpful for someone with TMD. By chewing deliberately and slowly and doing your best to limit jaw opening, you can enhance your comfort level.
Eating often becomes an arduous task for someone with TMD that increases pain and stress. But practicing these tips can make your dining experience easier—and more enjoyable.
If you would like more information on managing TMD in everyday life, please contact us or schedule an appointment for a consultation. You can also learn more about this topic by reading the Dear Doctor magazine article "What to Eat When TMJ Pain Flares Up."