Posts for tag: trigeminal neuralgia
By Miswak Dentistry
April 29, 2022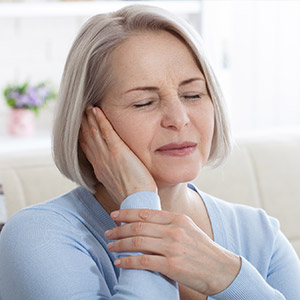 What started as an occasional twinge in your cheeks has now escalated to moments of excruciating pain. Worst of all, you're in the dark about why you're having these severe episodes of facial pain.
The answer may be a nerve condition called trigeminal neuralgia (TN). This disorder involves the trigeminal nerves, which course down each side of the face and upper jaw. Approximately 150,000 people are diagnosed annually with TN, mostly women over 50.
The pain may sometimes be connected to other nerve-damaging conditions like multiple sclerosis, tumors or lesions. Normally, though, there's a more benign reason. An artery or vein is pressing on one or more of the three branches of the nerve. The ensuing pressure damages the myelin sheath, a fatty outer covering that insulates and protects the nerve from undue sensation.
The nerve at this point of damage can become hypersensitive and reactive to such innocuous things as chewing, a light touch or even air blowing on the face. The erratic response spurs pain episodes, often just a few seconds long, ranging from mild to extreme.
Treating the condition first requires making sure you actually have TN, and that the pain isn't being caused by something else. Jaw joint disorders (TMD), dental abscesses and similar conditions may mimic TN symptoms. Uncovering the true cause may require advanced diagnostic tools like an MRI scan, and the help of different specialties, ranging from dentistry to neurology.
Once confirmed, there are several treatment options for TN that, if not curative, may help minimize painful episodes. Most patients begin with conservative approaches like medications or injections to block pain signals to the brain, or that help reduce abnormal nerve firing.
There are also more invasive procedures to address extreme cases. With percutaneous treatment, for example, the physician inserts a thin needle into the nerve and selectively damages some of its fibers to stop the transmission of pain signals. A surgeon can also use a microsurgical technique to relocate an impinging blood vessel compressing the nerve.
Which treatment methods you and your doctor choose depends on factors like your age or history with TN. Whichever treatment path you take, there's real hope that you can find lasting relief from this bedeviling condition.
If you would like more information on trigeminal neuralgia, please contact us or schedule an appointment for a consultation. You can also learn more about this topic by reading the Dear Doctor magazine article "Trigeminal Neuralgia: A Nerve Disorder That Causes Facial Pain."
By Miswak Dentistry
July 03, 2016
Recurring episodes of severe pain along your face could mean you have trigeminal neuralgia (TN). Although not always curable, TN can be managed effectively with the right strategy.
TN affects a specific pair of nerves called the trigeminal that signal pain in the face or jaws. They originate from the brain stem through the skull on either side of the face, with each nerve having upper, middle and lower branches. TN can affect one or more of these branches and cause anywhere from a mild twinge to excruciating pain.
Causes for TN differ in individual patients. Though it could be linked to a tumor, lesion or cold sore, it most often seems to arise from a blood vessel impinging on the nerve and damaging its outer coating. This causes it to be hypersensitive: chewing, speaking or even lightly touching the face can set it off. The damaged nerve may also fail to "shut off" when the triggering stimulation stops.
If you have these types of symptoms, your first step is to obtain an accurate diagnosis. You'll need a thorough examination to rule out other possibilities like jaw joint problems or a tooth abscess. Once we've determined it's definitely TN, we can then devise a treatment strategy.
We usually begin with conservative measures like medication to block pain transmission to the brain or anticonvulsants that stabilize the nerve and decrease abnormal firing. If medication isn't enough, we may then consider an invasive procedure to control symptoms.
Percutaneous treatment — often recommended for older patients or those in poor health — involves inserting a thin needle into the nerve to selectively damage certain fibers that will prevent the nerve from signaling pain. We might be able to move an impinging blood vessel aside from the nerve with a microsurgical procedure. As an alternative to surgery, high-dose radiation could also be aimed precisely at the pain site with a controlled beam to alter the nerve's ability to transmit pain.
TN can be a source of great discomfort that lowers your quality of life. But employing treatment techniques that best suit your situation, we can greatly reduce the misery it inflicts.
If you would like more information on facial pain caused by trigeminal neuralgia, please contact us or schedule an appointment for a consultation. You can also learn more about this topic by reading the Dear Doctor magazine article "Trigeminal Neuralgia: A Nerve Disorder that Causes Facial Pain."